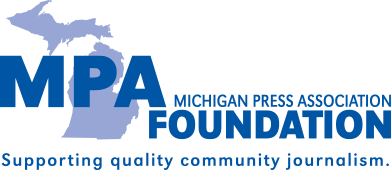 Download a list of winners from the 2017 MPAF Auction.
---
View the winner of the 2016 Michigan Journalist of the Year
---
2016 Scholarship Winners
Since 1990, the Michigan Press Association Foundation has awarded scholarships to journalism students at public and private universities in Michigan. This year, 11 journalists are receiving $1,000 scholarships, bringing the total to 211 awardees. The Foundation hopes that some will pursue careers in Michigan. They do. A partial list:
Jeremy Carroll, 2002 Adrian College, Crain Communications
Mary Wardell, 2014 NMU, Marquette Mining Journal
Greg Buckner, 2011 FSU, Holland Sentinel
Katrease Stafford, 2011 EMU, Detroit Free Press
Ambrosia Neldon, 2013 WMU, Leader Publications
Michael Martinez, 2012 U-D Mercy, Detroit Free Press
Eric Woodyard, 2010 WMU, MLive/Flint
Marissa Beste, 2013 EMU, Monroe Evening News
Caleb Whitmer, 2013 Hillsdale, Holland Sentinel
Ann Zaniewski, 2002 OU, Detroit Free Press
Lindsay VanHulle, 2007 MSU, Crain Communications & Bridge Magazine
Eric Czarnik, 2005 Wayne State, C&G Newspapers
Louise Knott Ahern 1996 MSU, Lansing State Journal
Mickey Ciokajlo, 1994 WMU, MLive/Kalamazoo
---
About the MPA Foundation
Five students from the original universities in the program are designated Richard and Donna Milliman Community Journalism Scholars honoring the Foundation's co-founding president and his late wife.
The Foundation's summer Match Intern Program pairs graduating high school seniors and community college students with MPA member organizations. At the end of the paid internship, students receive a scholarship co-funded by the Foundation and the hiring newspaper. Since 1999, the Foundation has paid out more than $79,000. Garret Ellison, MLive/Grand Rapids, interned at the Traverse City Record-Eagle; Robbie Sgro, also with MLive/Grand Rapids, spent two summers at the Big Rapids Pioneer.
Another Foundation/MPA partnership includes the Michigan Interscholastic Press Association. Teachers and news advisers spend four or six weeks at state news organizations, writing, editing (and being edited), shooting pictures, producing web content. This "summer school boot camp" brings value to newsrooms and enables teachers to return to the classrooms with insight into the evolving news profession. The Foundation also awards tuition scholarships to middle and high school students to attend MIPA's week-long summer workshop at MSU.
The Foundation's largest fundraising events are a spring golf benefit and an auction, part of MPA's winter convention. Legacy bequests, memorial gifts and honorariums also help fund Foundation initiatives. Generous support comes from MPA and MNI members, associate members, vendors and friends of Michigan journalism. Your help creates life-changing opportunities for those who will sustain Michigan's news profession.
---

Important information about how you can have a lasting impact upon Michigan journalism
Packet includes entry form
---
Donations to the Foundation
Your contribution strengthens the future for a free press in Michigan
Your contribution will ensure that worthwhile projects become reality. Your contribution helps strengthen the foundation for newspapers of the future and readers of the future.
Per Internal Revenue Service regulations for a 501 (c)(3) foundation under IRS code, all contributions are tax-deductible.
Making a Donation Over the Phone:
Please contact Diana Davis, MPA Bookkeeper at 517.372.2424
Sending a Check?
Please write checks to the "MPA Foundation" and place who or what the donation is for in the Memo line. Checks can be mailed to:
Michigan Press Association
827 N. Washington Ave.
Lansing, MI 48906
Thank you for your donation!