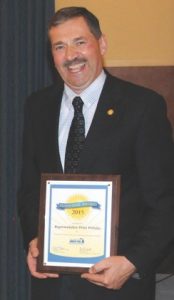 by Richard Lamb, Advance Editor
Tributes continue to pour in regarding the life and death of our state representative, the late Peter Pettalia, 61, who died as a result of injuries suffered in a motorcycle crash Monday.
After marching in Sunday's Posen Potato Festival grand parade in support of Republican candidates Sen. Jim Stamas and Sue Allor, who seeks the 106th District seat, Pettalia was traveling back to Lansing Monday afternoon.
He would have wrapped up his time in the state house over the final few months, as he was term limited.
According to the Michigan State Police (MSP), the crash occurred at 5:30 p.m. Monday on M-33 in Loud Township of Montmorency County.
"Investigation revealed Pettalia was southbound on M-33 near County Road 612 on his motorcycle, when a pickup truck driven by a 59-year-old woman from Fairview turned left, directly into his lane of traffic. His motorcycle struck the pickup truck broadside. Pettalia was wearing a helmet at the time of the crash. The driver of the pickup truck was alone and not injured in the crash," the MSP stated Tuesday morning in a press release. MSP assisted the Montmorency County Sheriff's Department in the investigation, which is ongoing.
As news of Pettalia's death spread, his social media page lit up with tributes. Fellow lawmakers, constituents and others said these things and more about him: "a fighter for Michigan, liked and respected, the best state representative, touching hearts, undeniable love for family, a great man, infectious smile, great legislator and better person, great sense of humor, hard-working, impacted community, genuinely nice guy, gentle soul, decent man, cheerleader for the area, honest, down-to-earth, good lawmaker, full of life, accessible to his constituents, well-loved, treated everyone like family and a good friend."
Gov. Rick Synder shared his thoughts as the news broke Monday evening.
"Sue and I were heartbroken to hear of the death of Representative Pettalia and send condolences on behalf of the entire state to his family, colleagues and friends. Peter's wife, Karen, their children and grandchildren are in our thoughts and prayers especially as they deal with this tragedy," the governor said.
"Peter had a long career committed to helping the people he represented and served, whether as a volunteer firefighter, a township supervisor or a state representative. He will be missed by many people here in Lansing as well as in his long-time home of Presque Isle and throughout his district."
State Sen. Jim Stamas, who worked with Pettalia on many northern Michigan issues, shared his thoughts on Pettalia's passing.
"I was shocked and deeply saddened to hear about the passing of my friend and colleague, Peter Pettalia. Pete was a common-sense public servant who loved his state, his friends and his family. He was passionate about life and about northern Michigan. Pete was truly one of the good guys who did his best to improve the lives of the people in his community. He will be greatly missed by everyone who was blessed to know him," Stamas said.
"Marsha and I are keeping his wife Karen and their entire family in our thoughts and prayers."
Michigan Republican Party chair Ronna Romney McDaniel praised Pettalia's service to the state.
"Representative Pettalia was a tremendous public servant during his far too short time in the Michigan House. He was a tireless advocate for the people of his district and their interests in Lansing. His commitment to his constituents cannot be overstated. My thoughts and prayers go out to his family and loved ones during this difficult time," McDaniel said.
Robert Kennedy, Pettalia's opponent in his most recent reelection campaign, and Democratic candidate for the 106th this year, offered his thoughts.
"I would like to extend my heartfelt condolences to Rep. Peter Pettalia's family upon the news of his death last night. As our state representative for three terms and my opponent in the 2014 election, I was always impressed by the energy he had to connect with the local units of government and to interact with his constituents around the 106th District. I will remember that energy as one of his top attributes. My thoughts and prayers are with his family and friends today," Kennedy said.
A respected member of the state house, Pettalia served as chairman of the House Transportation and Infrastructure Committee.
He served as vice chair of the Financial Services Committee and was a member of the Committee on Energy Policy and the Committee on Tourism and Outdoor Recreation.
He championed many causes, including the fight to preserve open government. Among the many awards he earned in his term was the Michigan Press Association's (MPA) Sunshine Award in 2015 for his leadership in promoting transparency in government.
The award is based on his support in promoting the importance of newspaper public notices in keeping Michigan's citizens informed about government activity. These actions directly support MPA's mission of defending free speech, promoting an open and responsive government and fostering an informed citizenry.
Earlier this year, the Michigan Association of Timbermen named him legislator of the year for his support of the logging industry. In March, his family joined him as Gov. Snyder signed his bill, Public Act 11, designating Thompson's Harbor State Park as a dark sky preserve.
Along with Sen. Stamas, he led an annual snowmobile tour for legislators in northern Michigan to highlight the popularity of the sport. Eager to share information with his constituents, he was a frequent guest and participant in many township, county and city meetings throughout the county and his entire district.
Peter Pettalia was born August 9, 1955, in Detroit and moved to Presque Isle Township in 1977. Before his election to the state house, he served as township supervisor for 16 years and as a volunteer firefighter, served on the Alpena Downtown Development Authority, the Presque Isle County Economic Development Commission, Community Development Commission and many more community service organizations.
He was co-owner and operator of the Downtown 76 auto repair business in Alpena and operated seasonal rental cabins in the Grand Lake area.
In 2008 he won the Republican primary for state representative, following the retirement of term-limited Rep. Matt Gillard. He was defeated in the general election by Andy Neumann but ran again and won in 2010, 2012 and 2014.
His wife, Karen and two grown children, Anna, Peter Jr. and grandchildren survive him.